About Invisalign
We Are A Certified Invisalign Provider
Consider Invisalign treatment to get the beautiful straight teeth you've always wanted — without braces. A free consultation with our team can determine if Invisalign clear aligners are right for you.
Not only are the aligners virtually invisible, they are removable, so you can eat and drink what you want while in treatment. Plus, brushing and flossing are no problem. They are also more comfortable than traditional braces, with no metal or wires, which also usually means you spend less time in our office getting adjustments. Invisalign treatment also allows you to view your own virtual treatment plan when you start so you can see how your straight teeth will look when your treatment is complete.
How Does Invisalign Work?
You wear each set of aligners for about a week, removing them only to eat, drink, brush, and floss. As you replace each aligner with the next in the series, your teeth will move — little by little, week by week — until they have straightened to their final positions. You'll visit us about once every six weeks to ensure that your treatment is progressing as planned. Total treatment time averages nine to 15 months but will vary from case to case.
Clear Aligner Alternatives To Invisalign
Spark Aligners
Spark Aligners are a revolutionary way of straightening your teeth. Using cutting-edge technology, these aligners allow for faster treatment times and more precise results than ever before. They're also made from a lightweight, comfortable TruGEN™ material, so they won't irritate the sides of your mouth like other treatments tend to do. Spark Aligners are also designed to be practically invisible, so no one will even know you're wearing them.
uLab Aligners
Our uLab Aligners provide a next-gen solution to orthodontic treatment, allowing for faster and more precise teeth alignment. With thorough, highly-detailed scans of your teeth and jaw, we're able to create aligners that are specifically designed for your individual bite and smile. So whether you're looking to correct minor misalignments or major imperfections in your smile, these aligners can treat many orthodontic conditions, such as crossbites, overbites, gapped teeth, crowded teeth, and more!
In-House Aligners
Our in-house aligner system gives you a superior treatment experience with the very best in comfort and convenience. We create our aligners with the highest quality materials and craftsmanship, ensuring that you get a treatment that is of the highest quality. Plus, all production of these aligners is done in-house by our very own Dr. Nelson and his experienced team!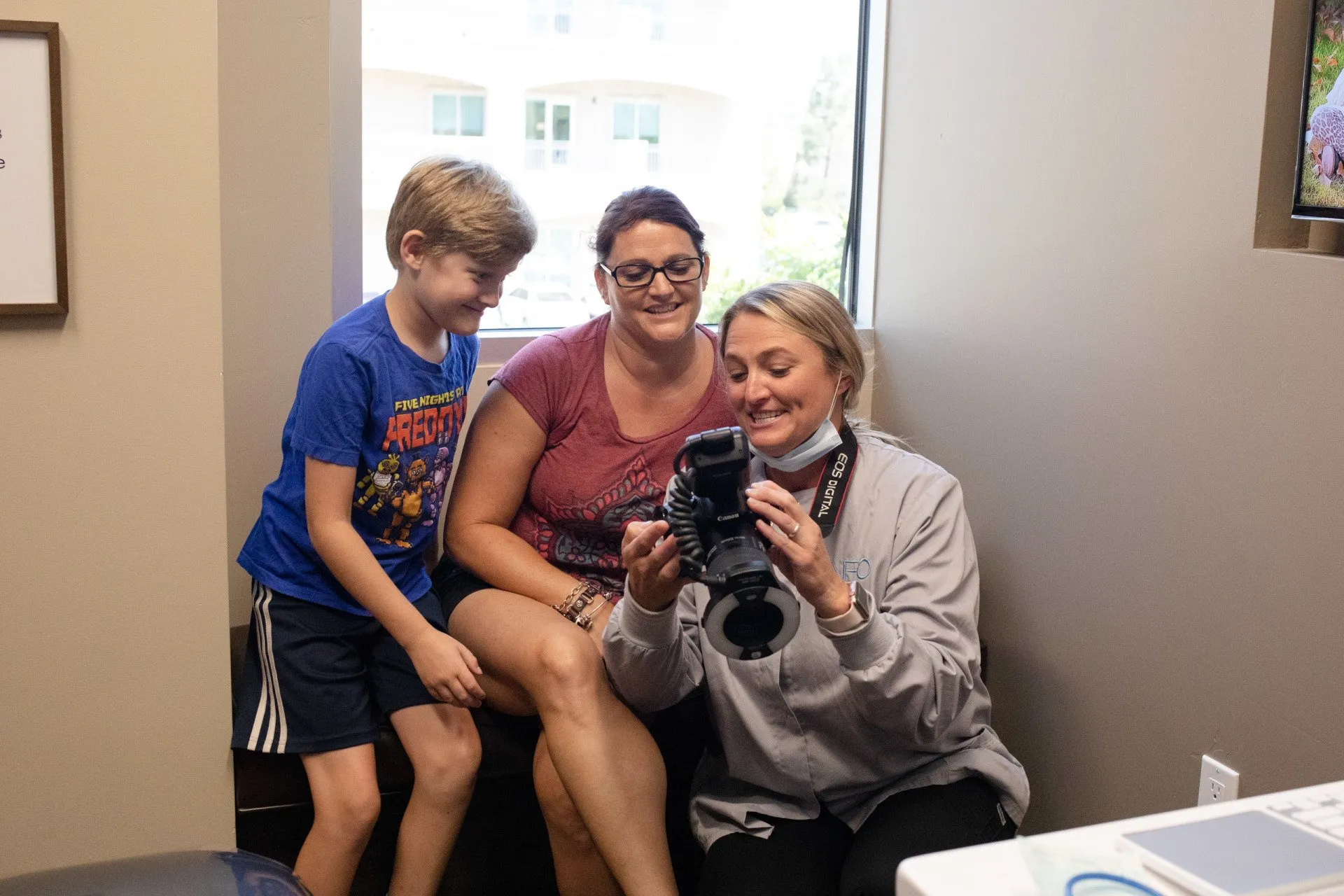 Invisalign For Kids
Here at Nelson Family Orthodontics, we recognize the significance of orthodontic treatment in promoting a child's overall well-being and growth. That's why our practice provides Invisalign — a game-changing method for correcting misaligned teeth and bites in children.
When it comes to orthodontic treatment for our children, Invisalign is a terrific choice that may begin at a young age. Invisalign produces the same excellent outcomes as conventional braces but is more discrete. Early intervention with Invisalign helps children to fix any potential problems before they become larger concerns, allowing them to get a head start on having a beautiful smile with excellent dental hygiene practices over time.
Invisalign First: Designed For Little Smiles
Invisalign First was introduced in 2018 as an orthodontic product specifically for children between the ages of seven and ten. It was designed to target the needs of children who are still developing and whose teeth are still growing in.
With Invisalign First, we can align your child's teeth while preparing their mouth for incoming adult teeth. It can also assist with arch development, crowding, and alignment. Children are different because their jaws and teeth are still developing, and Invisalign First is personalized for their needs. We understand that children need special attention and care; that's why we offer Invisalign First as a treatment option for your child.
We start by taking digital scans of your child's teeth in order to create an individualized treatment plan, so you and your child know what to expect. Plus, they're removable, so your child can maintain their dental hygiene and don't have to compromise their diets. This is especially helpful for children who may be picky eaters.
If you're interested in finding out more about Invisalign First here at Nelson Family Orthodontics, contact us today to request a free consultation.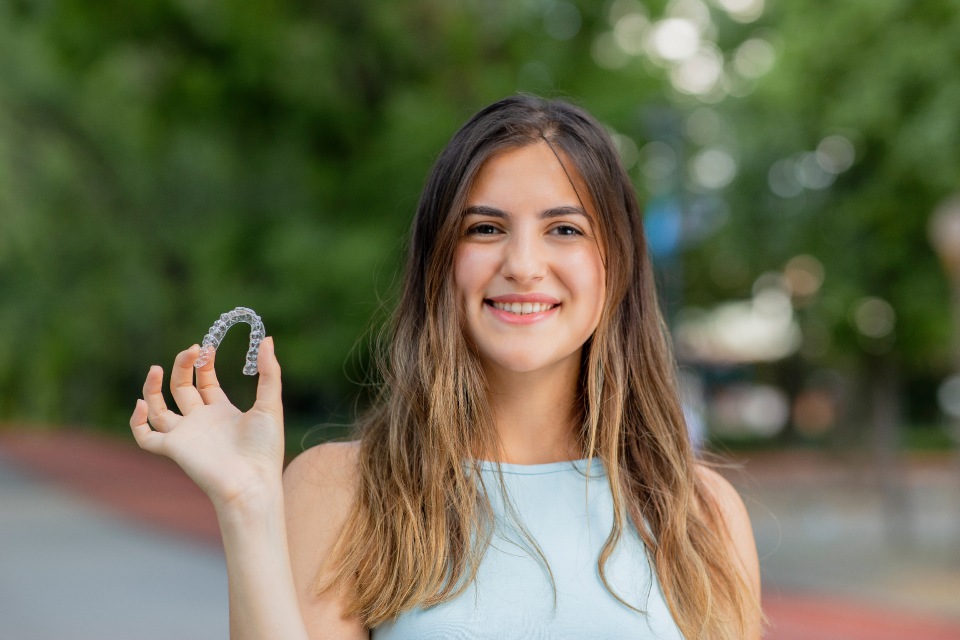 Invisalign For Teens
Invisalign is a very aesthetic option, and patients love that it's easier to keep their teeth clean. With Invisalign treatment, however, patient compliance is crucial. Patients must wear their aligners according to directions approximately 20 hours per day. Office visits every 2-3 months allow for Dr. Nelson to make sure the trays are fitting well and the teeth are moving as predicted. A quick, free consultation with Dr. Nelson will determine how good of a candidate you are for Invisalign treatment.
We Are A Certified Invisalign Teen Provider
Bummed Out About Having Braces? Invisalign Teen aligners give you a whole new way to wear your treatment for a "clearly" amazing smile!
The team has a game this Friday night, homecoming is in a month, and what about my yearbook pictures?! Don't stress; during your Invisalign Teen treatment, you won't need to turn down any dates, wear a paper bag over your head, or hide out in your room for two years! Invisalign Teen aligners are a perfect fit for your lifestyle because aligners are:
Clear
Removable
Super comfortable
Customized just for you
Pizza, Popcorn…No Problem!
You've probably heard from friends that with braces you won't be able to eat anything. With Invisalign Teen aligners, you can eat whatever you want!
Unlike traditional metal braces, your Invisalign Teen aligners are removable, which means you can go ahead and eat all the things you love without worrying about breaking a bracket or losing a rubber band. Cheers!
It's Your Life, Keep It That Way!
Invisalign aligners are really comfortable and very durable. They fit in with any of your extracurricular activities. So whether you're swimming the 50-meter race, throwing the football out on the field, or playing the clarinet with the school band, you don't have to worry about your braces getting in the way!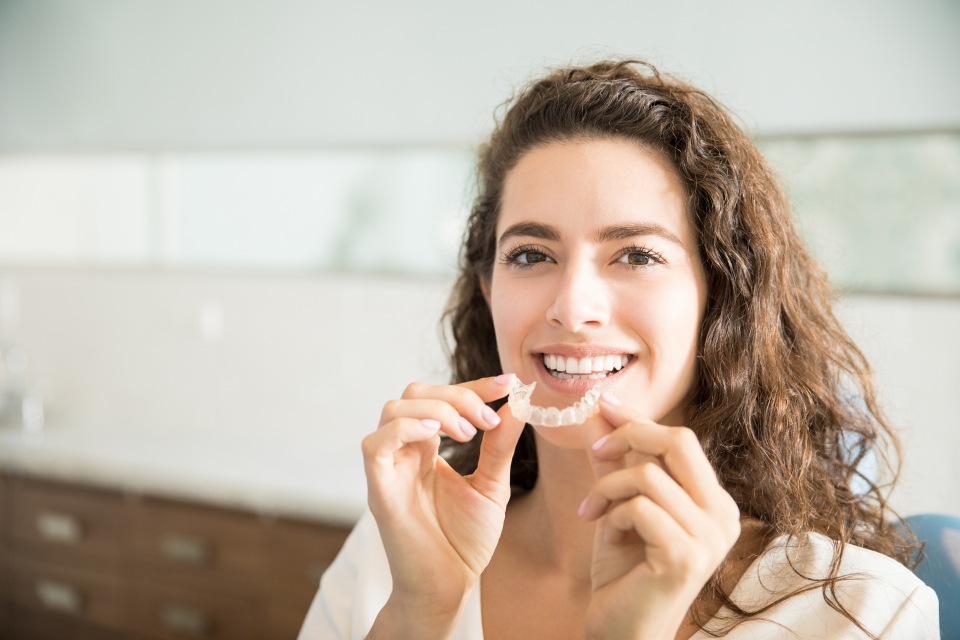 Invisalign For Adults
Orthodontic Treatment As An Adult
It's never too late to get expert orthodontic care, whether you never had treatment as a kid, had treatment but never wore your retainer, or never had treatment but now want to improve your smile and oral health. Adults who wish to straighten their teeth discretely have a great choice in Invisalign. With Invisalign, you can get the ideal smile you've always wanted without having to wear bold metal braces. Regular aligner replacements every two weeks and an individualized treatment plan from Dr. Nelson will allow you to monitor your progress in real-time and guarantee that your teeth are moving into their targeted positions as effectively as possible. Adults in San Marcos, CA, can take charge of their orthodontic treatment with Invisalign to move toward their ideal smile.
Get in touch with Nelson Family Orthodontics right away to request your free Invisalign consultation in San Marcos, CA.
Why Consider Invisalign as an Adult?
Invisalign employs a custom-made sequence of thermoplastic aligners to gently move your teeth into position, as opposed to traditional braces, which need to be tightened and adjusted on a regular basis. In addition, nobody will know you're wearing them. That means no one needs to know you're getting orthodontic treatment unless you tell them!
The adaptability of Invisalign is also a major selling point for individuals considering it. You can feel at ease straightening your teeth because the aligners can be taken out whenever you'd like. If you have an important event coming up and want to appear your best, you can easily remove your aligner for the occasion and continue with your treatment without skipping a beat.
Furthermore, the fact that they may be removed is quite helpful in avoiding complications with dietary restrictions. If you're using Invisalign, you can eat whatever you want without worrying about breaking the aligners. Plus, since the aligners can be taken out, brushing, flossing, and using mouthwash can continue as normal, too!
Invisalign FAQ